Too many business owners are missing opportunities because they have a website that is not performing for them.
Whether it's dated, unclear or getting buried on Google, the wrong website can hold you and your business back.
Get Clear creates outstanding websites that look amazing, communicate clearly, and rank well on Google.
We're Always Cranking Out Winning Websites
Here's how we do it.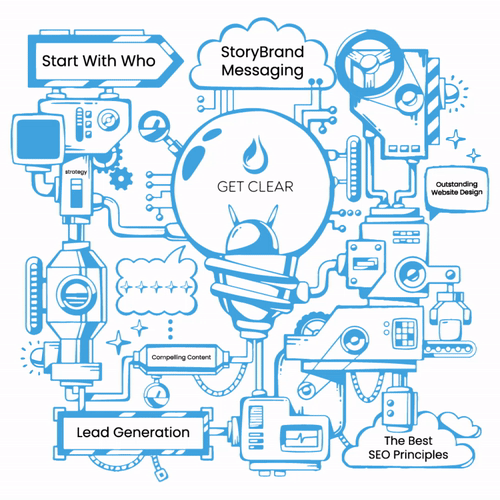 Get The Guide We Use To Make Sure Every Website Is A Winning Website
Download this resource to evaluate your current website or prepare for your next project.
You Don't Have To Be Embarrassed About Your Website Any Longer
We'd love to help you get a website that you and your customers absolutely love.
Here's what we do to make sure you have a site that is working for you:
The best in modern design. Our sites are clean, uncluttered, and make you look professional.

Clear message. Using the StoryBrand framework as our guide, we make sure the words and images speak to the head and heart of your ideal customer.

The best in SEO. We build SEO strategies into every website. This includes the on-page work and the stuff only Google sees.

A simple-to-use platform. Our secret weapon is the platform we've created so that YOU can manage your site quickly and easily. Manage your content, edit your images, add blogs - you can do it now in minutes.
Get An Amazing Website To Establish Your Authority And Win Over New Customers
Imagine being proud of a website that helped you stand out.
You will get the winning StoryBrand formula designed right into your new site that has been proven to attract your ideal client.
Browse Our Portfolio
Learn About Our Process
Get A Website To Establish Your Authority And Win Over New Customers
Want To Build A Website Yourself? You've Never Seen A Builder Like This.
Introducing Our Premium Website Builder $39/Month
We will give you a StoryBrand template that you can use to build out your site. You'll be equipped with all the tools and the roadmap to create a site that you'll love, be proud of, and get great leads.
This tool is perfect for small businesses and bootstrappers who have time and want to save some serious money.
Start A 7-Day Free Trial