Telling a story is one of the most powerful tools for getting your customers to buy into what you're selling.
Donald Miller's StoryBrand Framework shows how and why storytelling can be applied effectively in marketing
Businesses and marketers love it because of the easy-to-follow formula that any company - no matter their size or budget - can use.
Most people have trouble talking about their business without confusing customers. BrandScripts help you write better copy for your website and marketing materials by using proven techniques from Building A StoryBrand.
When you have a great BrandScript, your marketing will be:
stronger
clearer
converting better
Learn To Talk About Your Business So People Actually Listen
We help you get Storybrand right so that you know how to communicate what you do.
Is Your Business Suffering From The Curse Of Knowledge?
Watch this video to learn about the consequences of this common problem.
It All Starts With A BrandScript Done Right
Having a clear message helps you:
Connect With Clients
Once you have clarity, you will know your ideal client inside and out, being able to identify their problems and how your business can solve them.
Stay Focussed
Making a presentation? Writing a proposal? Starting a new project? You'll need a clear message to make sure your content is landing like you know it should.
Build A Marketing Plan
This becomes the foundation upon which we build all your marketing. No more wasting your marketing dollars through random, sporadic and confusing messages.
It's tough to say but too many businesses who love StoryBrand still can't get over talking about themselves.
They've read the book. They love the book. But they're really struggling to apply the book.
We know it's tempting to make your company as the star of your marketing. Most companies focus on themselves. We all do it. It's human nature to love to talk about ourselves all the time - but the problem is that it doesn't work in marketing.
Almost all marketing is focused on the wrong character.
But we recall from Building A StoryBrand that no one really cares about your story. They care about THEIR story, so your brand only matters if what you do relates to their story.
StoryBrand is powerful (and works so well) because it makes your customer the hero. That's why it's a game-changer, best-seller, and is being used by companies all over the world.
Understanding your customer's story makes your marketing strategy more cohesive. With a strong BrandScript, you give customers the hero's journey while making it easy for them to achieve their goals and be successful.
Marketing without a BrandScript will be less effective than it could have been or more expensive.
So let's talk about what does work...
Do You Have A Solid BrandScript For Your Company?
A BrandScript helps clarify your company's unique brand narrative.
What Is A StoryBrand BrandScript?
A BrandScript is the clearest call to action in applying the seven-part framework from Building A StoryBrand. It's the best tool to help you be more engaging and creative in your message. It involves several important pieces, including the character's problems (emotionally and logically), their plan to solve them, and how happy life looks once they're solved.
Here's the thing: If you know StoryBrand is important, you can't afford to neglect your BrandScript.
When you have the right tool in place, your marketing can be outstanding (literally, you'll stand out from your competitors).
We know that having a BrandScript is the best tool for optimizing your marketing.
A BrandScript is a marketing strategy tool that uses the elements of story to help your business connect with more customers.
A BrandScript helps you identify:
who your ideal client is
what your ideal clients wants to experience in life
What the external problem is that's holding them back
What the problem is doing to them emotionally.
the failure they are trying to avoid
how to position yourself as the trustworthy guide that has both empathy and authority
what is your clearest Call to Action so that everyone knows the obvious next step in doing business with you
A BrandScript helps you identify the transformation a customer is trying to achieve that will become the foundation of your marketing.
These are foundational building blocks to building any marketing campaign. Without these in place, you'll be subject to marketing that's random, ineffective and a waste of your time and money.
Why Hire A StoryBrand Guide To Help You With Your BrandScript?
You want to create a BrandScript on your own but we know you're already busy! The good news is that you don't have To do this alone.
Why not hire a StoryBrand Guide to help you create this important document? StoryBrand Guides know StoryBrand like no one else. They have received training from Building A StoryBrand author, Don Miller himself!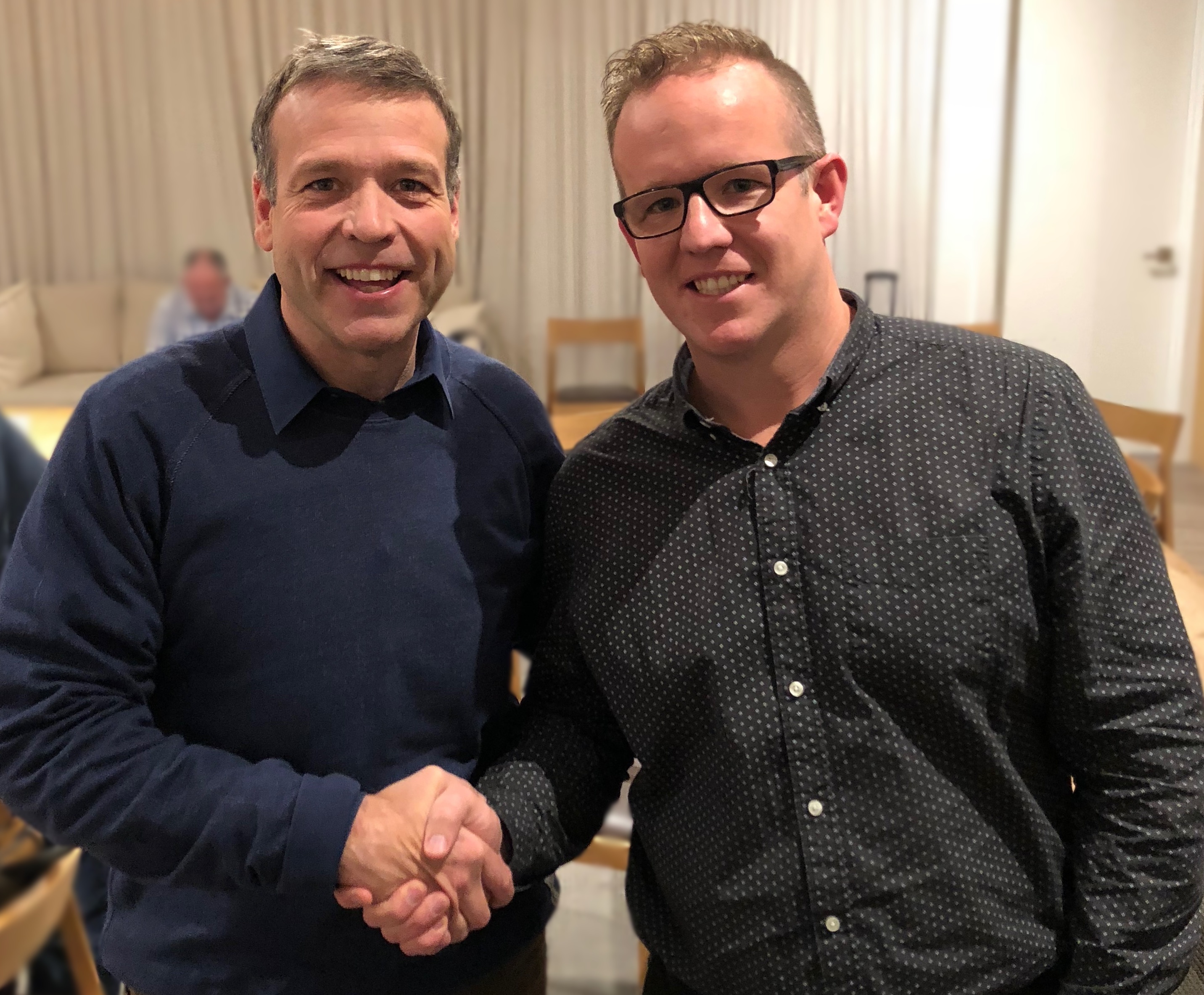 When you work with a Guide who knows what they're doing, you can save precious time (and arguments among your team) getting the work done.
Plus, you can get advice from a marketing expert at points where you may need some clarification or correction.
Another significant advantage (and you know your team better than anyone else) is that when you hire a Guide to help with your BrandScript, you have an unbiased third party who will be able to see your story through fresh eyes. They'll help identify points of confusion or things that might not make sense for new customers like jargon terms they wouldn't usually catch on to.
Experienced StoryBrand Guides have a wealth of experience to draw upon to provide some experience that could help you with your BrandScript as well.
The benefits of hiring a BrandScript Coach should be obvious.
Here are a few more highlights you can expect to experience when putting your BrandScript together with a Guide:
Instead of trying to do it all yourself, you can feel confident knowing that your brand strategy and voice have been created by the experts.
There's something about that confidence that comes from knowing you're investing in doing it right.
When working with BrandScript, there's no need for guesswork or trial and error - instead, just let the Guide do all the hard work by guiding the discussion and taking lots of notes.
Marketing your business is not just a matter of figuring out the right words to say.
It's also about knowing how and when to say them in order to inspire, lead or talk to your clients.
We help you discover your StoryBrand and tell it in ways that resonate with the people who matter most - your customers. The result is a more confident business owner who knows how to craft their StoryBrand message so that they can create marketing collateral like a website, email drip campaign, sales letters, etc.
Book A BrandScript Session
Work With A StoryBrand Certifed Guide To Create A BrandScript For Your Business
Jump on a dynamic Zoom meeting with one of our StoryBrand Guides.
In our session together, we will go through fifteen questions that will put together the story of your client's journey as the hero to a story.
We will identify your ideal client.

We identify the ideal outcomes your ideal client is looking for to win their story.

We will discuss what is stopping them from getting their heart's desire (pain points)

.
We determine your most effective call to action

We brainstorm how you as a brand can position yourself as an empathetic, trustworthy guide who can help them on their journey.

Outline a 3-step strategy for the hero's success

Choose the best testimonials to use on your marketing collateral.

You'll get a Brand Messaging Guide delivered to you that you can use for your messaging going forward.
Your investment: $1,490
Book A BrandScript Session
The BrandScript Lite
If you'd already done a BrandScript, you might have something else you need help with.
We help you make sure you are getting your message clear and your application of the framework.
During this call our coaches will:
Evaluate your marketing strategy (What's working/what's not working?)
Evaluate your website
Work on your elevator pitch
Establish your company marketing funnel
Discuss how to go deeper with the StoryBrand framework
Book A BrandScript Session
We want you to create marketing collateral that connects.
The world seems to get noisier every day. If our marketing efforts just add more noise, they will get tuned out with the rest.
Using the power of story, you can connect with people in a fresh way using tools used by communicators for over two thousand years.
"I have used countless tools to help identify my target market.
I am convinced that the Storybrand material is the best for getting to the heart of where people are really at. This framework has become essential for my marketing. Jon offered insights and a fresh approach that I have implemented on my website and in my workshops."
- Lucas Mattielo, TEDx Speaking Coach and CEO of Level Up Living
"I have been working with marketing companies for thirty years and I have never seen anything like this.
I always knew that storytelling was powerful but I never realized that the power was in helping your customer tell their story. The Brandscript session forever changed the way I talk about my company."
-George Martin, President of Well Balanced Homes
BONUS: Stop Fighting With The Awkard And Frustrating BrandScript Page
Forget fighting the green screen and figuring
mystorybrand.com
out. No more spending countless hours and lost nights of sleep trying to figure out the villain as well. Did you know that they don't even teach the villain at the live training anymore?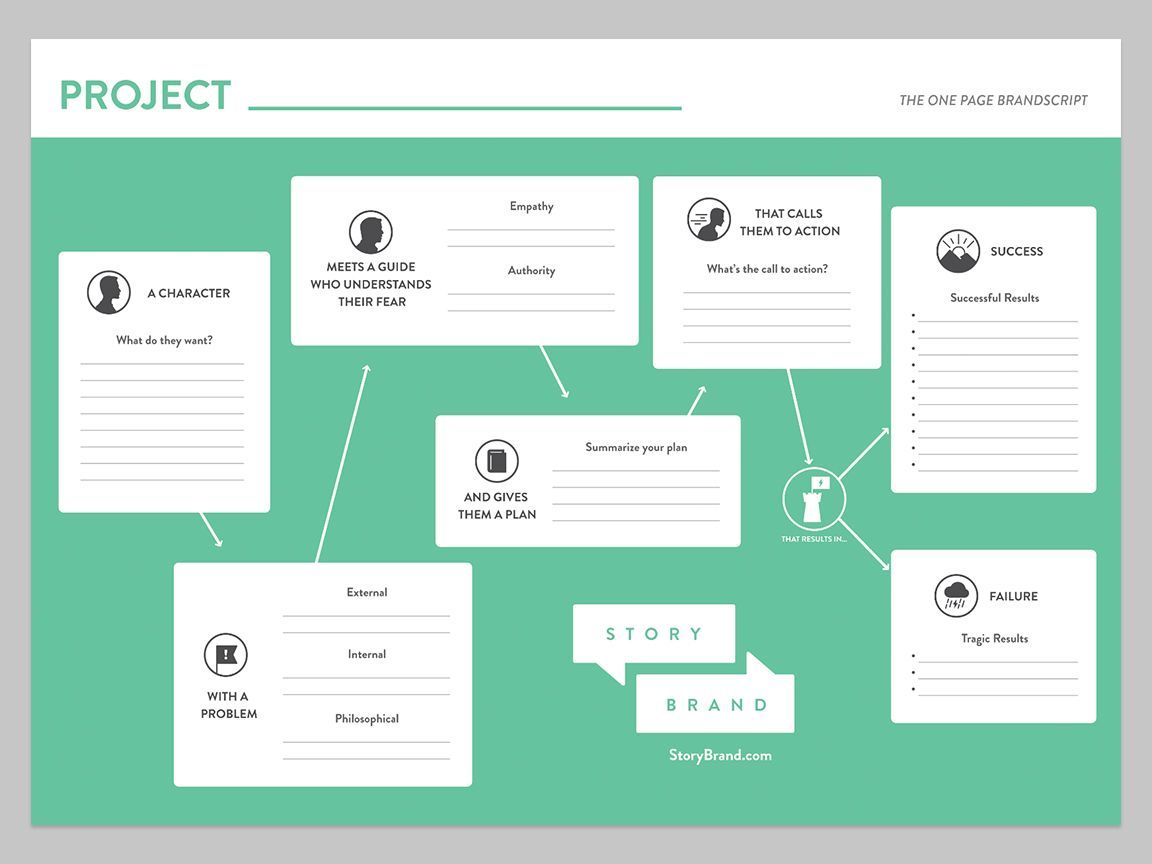 Instead, just answer these 14 questions we've put together over the years:
What do we know about the demographics of our ideal client?
What do our clients want as it relates to what you offer?
What are our customer's external problems (the physical road blocks they are encountering)?
What are the internal feelings that emerge because they are encountering these physical problems?
What is the philosophical struggle being played out? How are we a part of the "good versus evil" narrative playing out in the world today?
What benefits do your clients receive as you solve their problems?
What empathetic statement can you make that shows you understand what your client is struggling with?
What endorsements, statistics or associations help you establish authority as a trusted guide?
What testimonials do we have that show you have a proven track record to help them? (Hint: Could they match up well with the problems we listed?)
List the three steps that outline your clear plan for the hero to win the day?
What is the clearest call to action?
What is your transitional call to action in case they are not ready to fully jump in yet?
If someone chose not to work with us, what would the consequences be?
How can we help the hero imagine how we can improve their lives?
Call Out The Hero In Your Customers
If you have any questions about how to apply these strategies, our experts would be glad to help you out.
Book A BrandScript Session