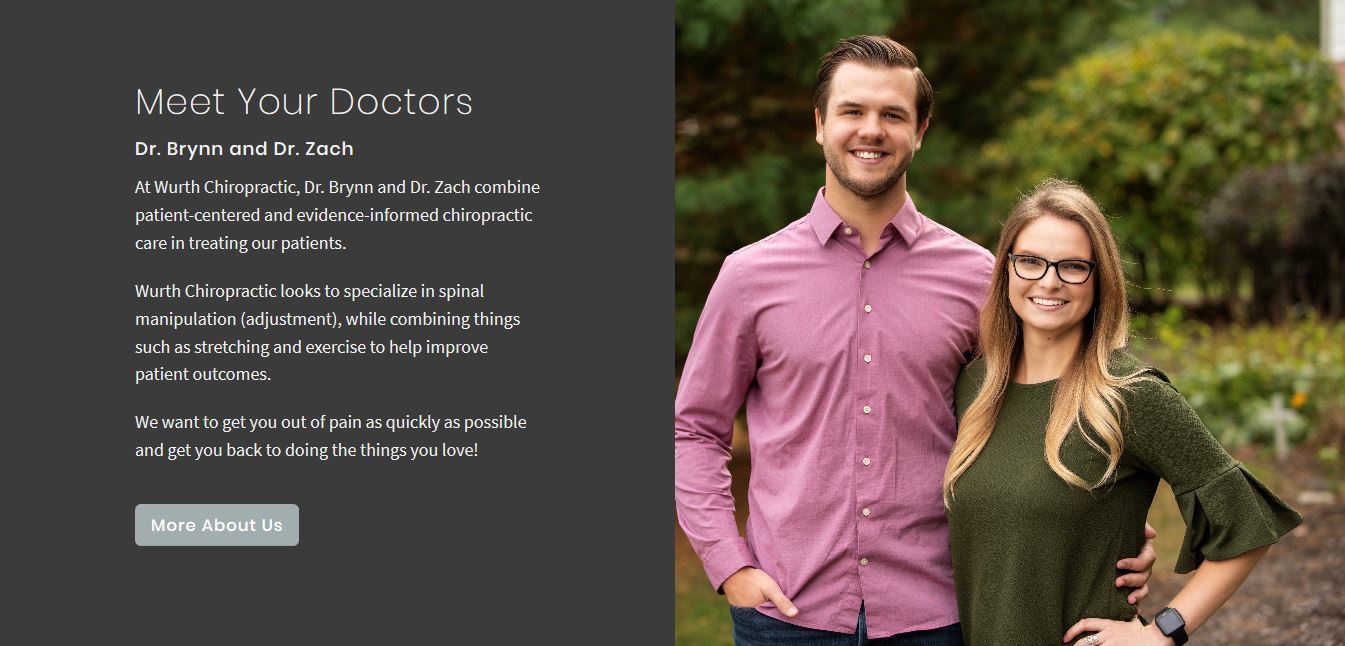 Recently we finished up a site for two of our favourite clients Zach and Brynn Wurth.
We have absolutely loved working with them and are excited to share the story of their business.
Zach and Brynn are the owners of Wurth Chiropractic in Erie Colorado. At their clinic Zach and Brynn offer it all when it comes to pain treatment including chiropractic adjustments (spinal manipulation), kinesio-taping, exercise therapy, spinal traction tables. Zach and Brynn are experts in their field and worked extremely hard to get to this point. Both are extremely passionate about what they do, and say that walking across the stage to receive their Doctorate of Chiropractic degrees were the proudest moments of their lives.
After graduating together Zach and Brynn's dream was to open their own chiropractic practice together.
They are chomping at the bit to get going at their new clinic, and proudly say they are betting on themselves and their abilities. What makes Wurth unique is the different characteristics and specialties that Zach and Brynn bring. From growing teenagers to those ready to live their retirements with a pain-free, active lifestyle, they are your go-to specialist for neck and back pain!
However, just like all businesses, there are hurdles to overcome in the beginning.
Zach and Brynn made the jump from their homes in the Midwest to Colorado and took on the new challenge of owning and operating their own business.
Navigating the business world is far from easy with all the small items, documents, and paperwork to be completed it can feel overwhelming at times. Despite the challenges, Zach and Brynn have enjoyed the adventure and are really growing to love their new home. Engaging in the community has really helped them fit in and has introduced them to a lot of new friends as well as potential patients. They also have had a lot of help from mentors and friends giving the advice to ease their transition.
What Brynn and Zach love most about opening their clinic is that they now have the chance to do what they love.
Their passion is to help people feel better and get them back to doing what they love. They love building relationships with others and are looking forward to building more as their business grows. Zach and Brynn have worked incredibly hard to get their business off the ground and started, and we have loved playing our part and providing some fun in designing the look of their sight, culminating in their beautiful new site!
"Jon and Get Clear Solutions have easily been some of the most easy, trustworthy people we have ever worked with. We have a fantastic product that is going to help better serve our patients and help attract them to our office! We couldn't be more appreciative of them!"

- Dr. Zach Wurth