Thinking Of Taking Small Business Flight School?
Here's your Guide to learning more about it.
Most small business owners feel overwhelmed and lost trying to navigate the pressures of running a business.
But what if there was a way to ensure that you don't just get through a day but that you and your small business survive and thrive?
That's where Donald Miller's Small Business Flight School becomes quite appealing.
I've seen these ideas sprinkled around the Guide program in my six years working with Don as a StoryBrand Guide. I'm excited now to see a cohesive plan for putting all the small business growth tools into one.
With Small Business Flight School, you'll now have access to a step-by-step playbook that covers everything from developing a solid business plan to managing your finances to marketing and branding your business.
Sure, every business is unique... but we all have the same basic needs as leaders.
There's six of them and that's the overview of the Flight School program. Don and his team have tailored the program to be universal and yet still land in your business to meet specific needs. On top of the video instruction from Don, you'll be able to work one-on-one with a Certified Coach, and engage in a like-minded community as you get personalized coaching and feedback throughout the program.
Why Is It Called Small Business "Flight School"?
You might wonder, "Why is it called a 'flight school'?" It's not because they're teaching you how to fly planes.
It is called Small Business Flight School because Don uses the framework of flying a plane and equates it to running a business. Just as a plane needs six key elements, a business also needs six critical components to ensure that it runs smoothly and safely.
These six components are:
The courage to lead with a strong business plan
Clear messaging and branding
Developing a sales funnel
Streamlining operations
Managing finances
Scaling the business long term
Just like a pilot needs to understand each part of the plane and how they work together, a small business owner must also understand these six elements and how to integrate them into their business. The program will provide the guidance, knowledge, and tools you need to do just that.
Small Business Flight School aims to help you professionalize your operations and grow your business to new heights. Every business is unique, so we tailor our program to meet your needs. With our expert instructors and personalized coaching and feedback, you can take your business to the next level.
An Agency Owner's Review of Donald Miller's Small Business Flight School
As an agency owner who has helped small businesses worldwide, I highly recommend taking advantage of Donald Miller's Small Business Flight School to grow or scale your business.
I have already had the opportunity to learn these six elements from my six years as a StoryBrand Certified Guide. We talk about this all the time during our ongoing Guide training sessions. I have read all his books, listened to the podcast, chatted with other Guides, and talked to Don personally about these principles.
In my business and with others who follow this framework, I have seen how they have helped an organization run more efficiently and become equipped to make smarter decisions, even when things didn't go as planned.
Affiliate Bias Disclaimer: As a Certified Guide, I'm part of the choir. If you sign up using my link, Don and his team have shared some of the revenue with me. But I've been a Guide for six years, and it has always been like that on all their products. This is the first one I've highly endorsed. I think it's one of the best 360-degree programs Business Made Simple has created.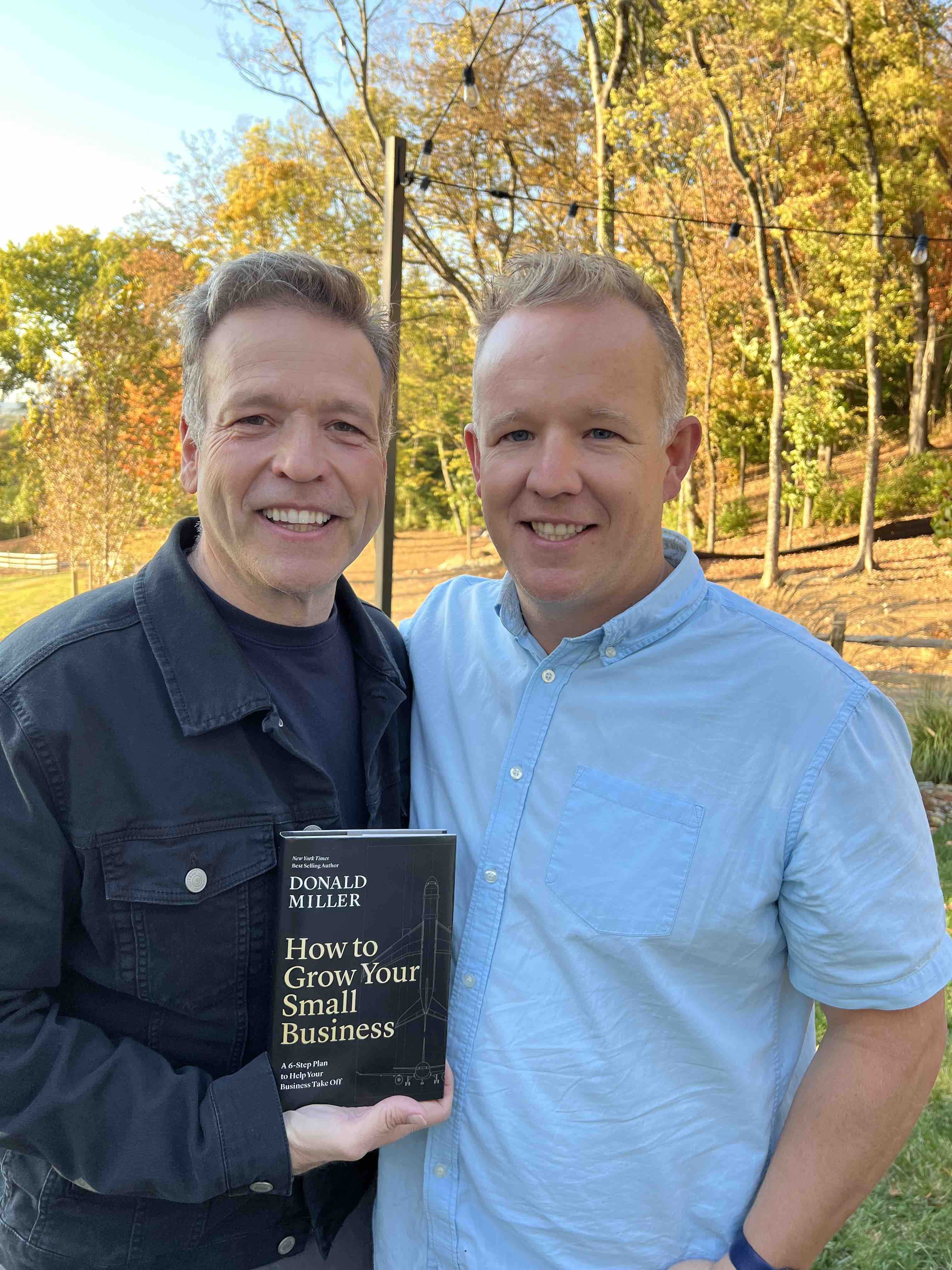 You Don't Have To Do It Alone
This is not just another expensive online course. It's an investment to double your revenue. The community aspect and live coaching sessions are so helpful for any small business owner. Learning alongside other entrepreneurs and sharing ideas is a great way to gain new insights and perspectives on business challenges.
It's About Having A Plan
The Small Business Flight School provides a comprehensive plan for optimizing all aspects of your business, from marketing to cash flow management. I encourage any business owner looking to take their operations to the next level to enroll in Small Business Flight School today.
But How Do You Know It's Right For You?
If running a business is like flying a plane, too many small businesses hit turbulence, lose balance and veer off course as they grow (or struggle to grow). As different parts of the business begin to grow disproportionately, it can cause the company to veer off course and ultimately fail.
There are several warning signs to look out for.
Suppose business owners find themselves constantly putting out fires and attending meetings instead of doing the work they enjoy. In that case, they will live with a nagging feeling like something is holding them back or running the business is preventing them from enjoying what they started the business for in the first place. Something needs to change. Then they need to take action.
Small Business Flight School offers a comprehensive program to help you avoid these pitfalls and regain business balance. The program provides a clear plan for growth, streamlines operations, and offers personalized coaching and feedback from expert instructors.
Small Business Flight School: Guiding Business Owners To Double Their Revenue
Small Business Flight School is about GROWTH. Double the growth, that is. The program is designed to guide entrepreneurs through a growth plan. By following the six-step process, business owners will learn to professionalize their operations and achieve new levels of growth.
Participants in the program receive the following:
A step-by-step plan to double their revenue
Coaching calls with Business Made Simple experts
Access to a community of other growth-focused entrepreneurs
With Small Business Flight School, small business owners can overhaul and then relaunch their operations in just six months.
And even better, program content and community access will remain available to participants as long as they maintain a Business Made Simple membership.
Enrolling in Small Business Flight School lets you keep your businesses balanced and fly smoothly toward their goals.
Who Is Small Business Flight School For?
Small Business Flight School is for business owners with about 5-8 hours a week to professionalize their business over six months. We understand that small business owners have busy schedules, so they've designed our program to be flexible and accessible.
Small Business Flight School is a program for small business owners looking to double their businesses and succeed as a leader of great companies.
This program can work for businesses of any size in any industry. Whether you are just starting or looking to scale, the six steps taught in Small Business Flight School can help you set your business up for success. Our expert instructors will provide you with a roadmap for growth and help you develop a solid plan tailored to your specific needs.
Every business is unique. That's why the Flight School program is designed to be customized to meet your specific needs. Whether you need help with messaging and branding, developing your sales funnel, or streamlining your operations, Small Business Flight School has you covered.
What Is Covered In The Small Business Flight School Curriculum?
Small Business Flight School offers a program that mirrors the content of Donald Miller's book, How to Grow Your Small Business, released in March 2023. The curriculum consists of six key elements that a business needs to run well:
1. The Leadership Component In Small Business Flight School
Small Business Flight School is designed to help small business owners succeed, starting with Element 1: Leadership. Just like a pilot in the cockpit, a small business owner needs to be a skilled and capable leader to navigate their business to success.
At the heart of leadership is the ability to cast a clear vision for where the business is headed. This starts with a compelling mission statement that includes three economic priorities, a deadline for achieving those priorities, and a clear connection to a greater purpose. Without a clear and inspiring mission, the team can become directionless and unmotivated.
In addition to a mission statement, good leaders must establish the key characteristics each team member should embody. These characteristics include respect, honesty, and a commitment to excellence. When everyone on the team shares these characteristics, it creates a positive and productive work environment.
Finally, small business owners must communicate the critical actions each team member can take daily to keep the organization moving towards its financial goals. By breaking down these actions into actionable steps, employees can clearly understand what is expected of them, and they can work towards achieving their goals.
Small Business Flight School recognizes the importance of effective leadership in the success of small businesses. Entrepreneurs can create a strong and successful business with a motivated and productive team by emphasizing the importance of a clear mission statement, key characteristics for team members, and daily actions.
2. The Right Marketing Message Section Of Small Business Flight School
Small Business Flight School is designed to help small business owners succeed. The second component is marketing.
A small business needs effective marketing to succeed like a plane that needs two engines working together to lift off and maintain forward motion.
The right engine in the flight plan is the marketing engine. Small business owners must clarify their marketing message to succeed in marketing products or services. This means clearly and concisely explaining how the company's product or service solves an ideal client's problem, helping them survive and thrive.
I appreciate that marketing isn't about being sleazy; it's about being clear that you have a solution to a problem.
And it's about doing it clearly.
By using clear messaging to explain their offerings, entrepreneurs can increase sales and cash flow, accelerating their business growth.
At Small Business Flight School, we help entrepreneurs develop effective marketing strategies that work. Our instructors help business owners identify their unique selling proposition (USP) and use it to create clear and compelling marketing messages. We also guide effectively reaching target audiences through various marketing channels, including social media, email, and content marketing.
3. The Importance of Sales in Small Business Flight School
Small Business Flight School is a program for small business owners who want to succeed. Sales is an essential part of the program. The left engine contributes to the airplane's thrust, and sales are the left engine of a successful business.
In this section, you learn how to create a million-dollar sales message using the elements of a story in the StoryBrand Framework.
The framework positions the customer as the hero, the small business as the guide, and the product or service as the solution to the customer's problem. This approach can be much more effective than just talking about the product or service, as it emphasizes the customer's needs and how it meets them.
Small Business Flight School provides expert instruction in developing a sales pitch that resonates with the ideal customer. By positioning the customer as the hero and the business as the guide, entrepreneurs can create a sales message that builds trust and rapport with their audience.
The program guides you on using effective sales funnels to drive revenue growth. Entrepreneurs will learn the key components of a sales funnel and how to create a funnel that engages potential customers at every stage of their journey, from awareness to purchase and beyond.
By mastering the sales engine, small business owners can accelerate their business growth and increase revenue.
With the guidance of Small Business Flight School's expert instructors, entrepreneurs can develop a sales strategy that works and converts.
4. The Importance of Products in Small Business Flight School
The fourth element, Products, is a critical component of the program. The products and services a business offers are like an airplane's wings. In this section, students will learn how to identify the most profitable and in-demand products and services and then focus their efforts on optimizing those offerings.
Small Business Flight School provides a framework for ranking existing products to determine the most profitable.
This way, entrepreneurs can focus their resources on the most profitable products and services. The program also includes a product brief template that business owners can use to determine if a new idea is worth pursuing. This template helps entrepreneurs ensure that they invest their resources in products and services that will be profitable and in demand.
The program also includes ideas for optimizing products to increase revenue without increasing workflow. Businesses can grow their wings and expand their reach by optimizing their offerings without bloating their overhead.
5. Streamlining Overhead and Operations with Small Business Flight School
Small Business Flight School is a program for small business owners who want to succeed. Overhead and Operations is not my expertise, but I admit it is a critical part of the program. A business's overhead and operations are like an airplane's body. Keeping the plane in the air is essential to keep the overhead costs as slim and streamlined as possible.
Many businesses struggle with high overhead costs, with labour expenses often being the most significant.
Rather than immediately cutting positions, Small Business Flight School teaches entrepreneurs to analyze overhead and operations and organize their teams around a common financial goal. By doing so, leaders can mobilize the team, raise morale, and increase productivity.
Donald Miller outlines five types of meetings that business leaders should hold to achieve team alignment. By making it clear to each team member how they contribute to the company's overall goal, momentum will increase, and the team will work more efficiently.
By streamlining overhead and operations, entrepreneurs can keep their business costs low and allocate resources to where they are needed. In addition, Small Business Flight School teaches business owners how to optimize their operations to ensure maximum efficiency and productivity.
Small business owners can decrease costs, increase revenue, and achieve long-term success.
6. Fueling Your Longterm Success Cash Flow Management
Small Business Flight School is a program to help small business owners succeed. The final element in the program is Cash Flow. Cash is vital for any successful business. Miller compares cash flow to the fuel tank of an airplane, saying that without it, even the most impressive plane will crash.
To address the importance of cash flow, Small Business Flight School teaches a clear cash flow system that any small business owner can implement. Miller's system uses five different checking accounts, one for each aspect of the business. These five accounts are for personal use, operating expenses, profit, taxes, and investment holding. By keeping everything organized in separate accounts, entrepreneurs can easily analyze the health of their business by logging into their online banking program.
Many of us struggle to understand profit and loss statements or make financial decisions quickly. Miller's cash flow system is a game-changer for anyone looking to manage their finances more effectively.
Why I Think You Should Enroll
Sure, it's a big investment of your hard-earned resources. But Enrolling in Small Business Flight School is the first step in gaining the knowledge and skills you need to take your business to the next level. Don't let your business remain stagnant.
It's important to note that no two businesses are alike, meaning that what works for one may not. That's why I love the coaching dynamic of the program. The coaches emphasize customization over cookie-cutter solutions, tailoring each program to fit a business's needs.
With the Small Business Flight School program, you'll work with the material and a coach to identify and focus on key areas of improvement and growth. With a personalized plan, you can make informed decisions that lead to sustainable success.
If you're ready to stop metaphorically crashing your business and learn how to soar, Small Business Flight School is the program for you.
I've been doing this for a long time. I know that taking action works and wavering doesn't.
Are you feeling convinced? Click here to get started in the program.
Of course, I'm an affiliate, so you've likely sensed some of my bias.
If you want to have a conversation about whether or not this program is right for you, schedule a free, no obligation phone call with me. Here's my booking link.